Semester at Sea 2016 —
After my two years at UWC Red Cross Nordic, I embarked on my Semester at Sea Spring 2016 journey as a Davis scholar. During the 102 days of the journey, you sound approximately 50 in port and 50 at sea. While at sea, you take part in university courses, obtaining credits with of a full university semester. I took Societies and the Sea, Drawing at Sea, Global Music and World Prayer, each customised to the countries we would go visit to maximise the learning. In port, you are free to travel as you please as long as you get back to the ship in time. The itinerary took us to Hawaii, Japan, China, Hong Kong, Vietnam, Myanmar, India, Mauritius, South Africa, Ghana and Morocco. Experiencing that many cultures in such short time is an overwhelming experience, I wouldn't wish to be without.
Living on the ship and spending a semester at sea opened up my eyes to environmental issues related to the sea. While crossing the Pacific we would often see large pieces of trash and mistake it for whales and other sea creatures. Travelling by ship is one of the most polluting ways of travelling and several discussion on this took place during the voyage. I took part in a course, Societies and the Sea, looking at the human influence on the sea and ways of addressing this. We often talked about the impact of marine tourism, engine noise and plastic pollution and how this damages eco systems. Despite learning about the negative impacts of travelling like this, we also learned a lot about responsible travelling, the various cultures and respecting others. Below are some of the highlights of my journey divided into countries and how this affected my experience.
Japan —
Was fascinated me about Japan is the order and control in the public space. People rarely raise their voice and have a system of walking in different sides of the roads depending on which way you are going. Through my World Prayer course, I became infestered in the indigenous Shinto culture and how this overlaps with buddhism today. Despite buddhism being considered the main religion, there are signs of the Shinto faith all over and many Japanese identify as both. Experiencing how these two religions merged engaged me in conversations with Japanese people and I found them polite, friendly and very willing to share their experiences.
Vietnam —
In Vietnam I took part in a trip to Hoi An and Hue to experience World Heritage Sites up close. These monuments were often palaces for the purpose of burials for kings and the endorsed buildings and graves were spectacular. Everywhere you go, you see beautiful mosaics of recycled ceramics in the shapes of symbols and dragons. We visited during Thet (Lunar New Year) and got to experience the celebrations up close.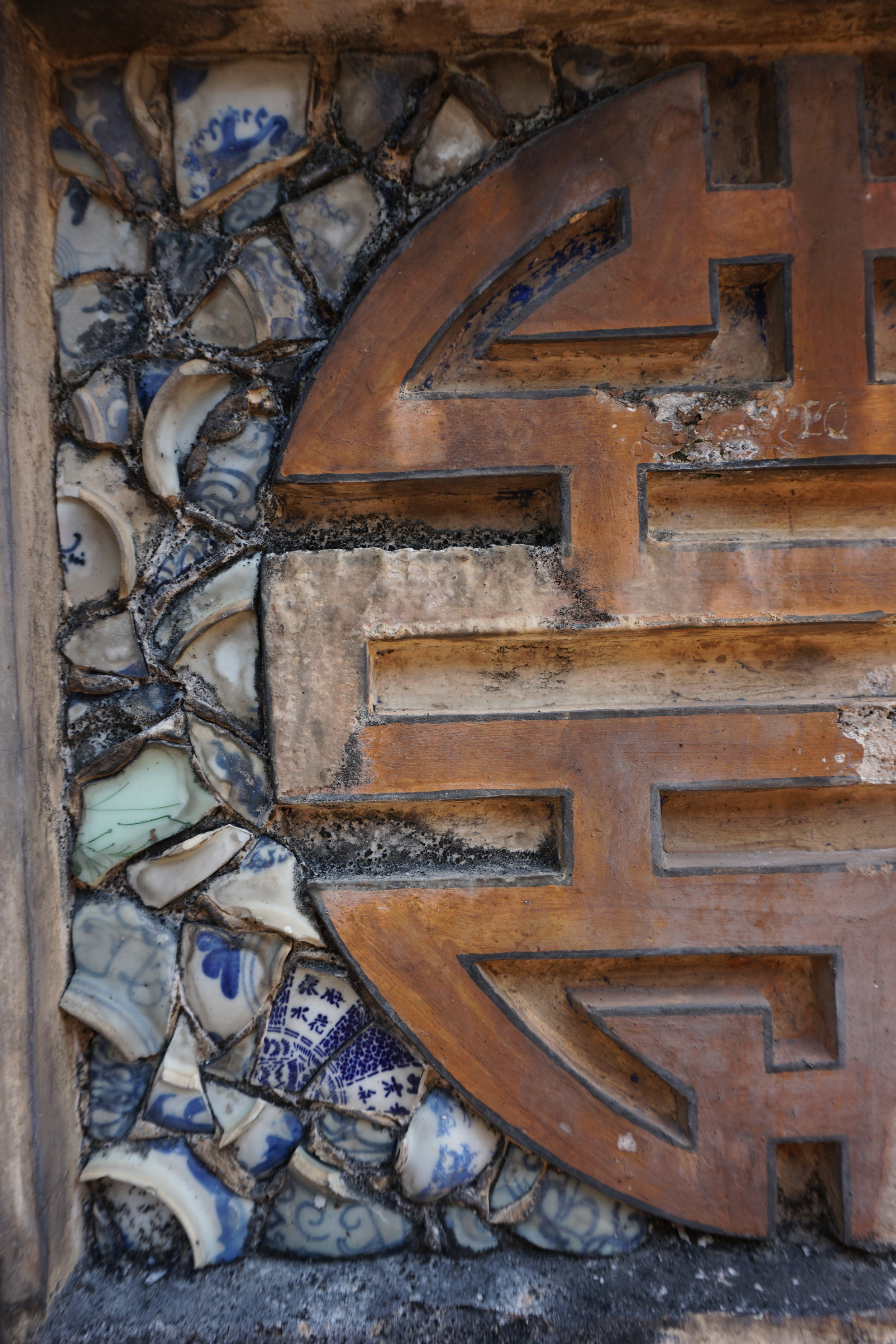 Myanmar —
Arriving in Myanmar was a breathtaking experience, sailing up the river to Yangon in the sunrise seeing the golden pagodas glistening in the sun. There are so many temples to go see and none of them are alike. Myanmar is mainly buddhist as well, although they have their own style of buddhas as also witnessed in Vietnam, where buddha often is depicted female. In Myanmar, the difference is the gender fluidity and earlobes.
Getting lost in Yangon, I by luck managed to find a textile market selling fabric for the traditional wear for women as well as men, the lungi. The variety of colours and choices in wovens was overwhelming and it was clear that this place was for no traveller, making the experience that more special.
India —
Having been to Pakistan, I expected certain similarities between the two, however I was surprised to find them completely different. This was partially due to the fact that we visited the south and that we docked in Cochin, Kerala, the only communist state of India. With the rich culture of Kathakali and a creative hub, there were colours and textiles all around. When travelling to Munnar, known for it's tea plantations, we camped in the forest and went trekking through the plantations.
Ghana —
In Ghana we spent time in markets and the rainforest and learning about the Ghanian history of slave trade and liberation. Everywhere you looked there would be women dressed in the most beautiful wax block print patterns, which were available all over. You can buy the fabrics in small stands along the roads and small shops with fabrics stacked from floor to ceiling, making it almost impossible to decide on colour and pattern due to the massive variety. I brought home a few for research, now serving as a skirt and bed linen.
Morocco —
The final port before disembarkation was Morocco. I was looking forward to the many colours of the mosques and markets and was not disappointed. On our trip we went to Chefchaouen, a small village famous for its blue-painted houses. We arrived just in time to see the houses be painted and prepared for the summer to come. There are many stories about why the houses are painted, but well-known reasons are superstition and keeping flies away. Visiting the markets in Fez was overwhelming with immense choices of ceramics, textiles and artisan goods. On top of the colours and rich cultural experiences, the food was amazing and I'm dying to go back to experience more.